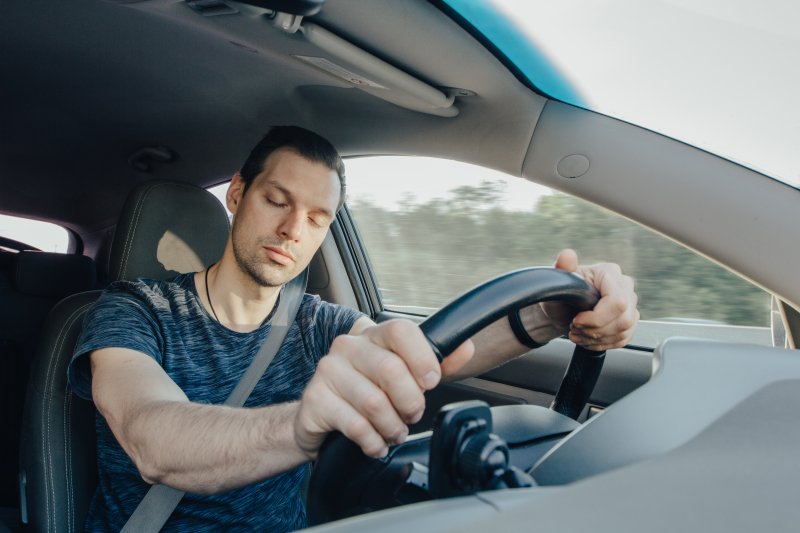 Do you ever fear you will become drowsy while driving? If you suffer from sleep apnea, this is a real concern that can have fatal consequences. Chronic fatigue can take a toll on your mind and body in many ways. If you want to avoid falling asleep at the wheel, it's time to learn about the symptoms of sleep apnea and how your dentist can be your greatest ally in helping you achieve better rest.
What Can Cause Drowsy Driving?
According to the National Highway Traffic Safety Administration (NHTSA), 91,000 crashes, 50,000 injuries, and 800 deaths were reported as a result of drowsy driving in 2017. Another study indicates that an estimated 21% of fatal car crashes were due to individuals operating a vehicle while drowsy.
The dangers of this risky behavior can be caused by many factors, including:
Lack of sleep that leads to daytime fatigue
Sleep apnea or other similar disorders
Certain medications
The time of day a person is driving
What Are the Symptoms of Sleep Apnea?
When sleep apnea is the cause of drowsy driving, it is essential that you recognize the symptoms. They're not always easy to identify, especially if you do not live with someone who can tell you if you snore or stop breathing.
Some clear indicators that you are living with a sleep-breathing disorder include:
Chronic fatigue
Moodiness
Inability to focus (forgetfulness)
Gasping or choking for air when waking
High blood pressure
Frequent headaches or sore throat
If you're driving and become drowsy, you also need to be mindful of when you should stop to get some rest. If you begin to yawn often or drift into other lanes, or you find yourself dozing off, get to a rest stop or pull off the road quickly. Allowing your struggle to continue can lead to disastrous outcomes.
How a Dentist Can Help
Seeing a sleep dentist for professional help with your sleep apnea is one of the best and most important steps you can take. Recognizing you need a solution that is designed to encourage better breathing and sleeping will lead to fewer symptoms and a better quality of life.
Your dentist will not only recommend a sleep test to monitor your vital signs but will work closely with your physician to evaluate the results and establish a formal diagnosis. From there, a personalized treatment plan can be created to help you achieve relief. This can include everything from a continuous positive airway pressure (CPAP) machine or even a customized oral appliance that is worn while you sleep and shifts the jaw to ensure the airway remains open.
Don't let your drowsy driving continue. Get the help you need right away by seeing a trusted sleep dentist. Only then will you begin to address your symptoms and embrace a safer, healthier way of life.
About the Author
Dr. Shelley Shults is a board-certified nurse practitioner, general dentist, and dental sleep medicine practitioner. In 2001, she graduated from The Ohio State University with a Doctor of Dental Surgery degree. Dr. Shults is committed to helping patients get adequate sleep, which is why she provides safe and effective treatment designed to unblock airways and ensure a better quality of life. Contact us at (614) 396-9310 if you need help addressing your sleep apnea.