Diagnostic Technology – Powell, OH
State-of-the-Art Care For Powell Families
At the Powell Dental Group, we strive to provide a better kind of dental care than your average dental office, and in order to do that, we know we need to have the best equipment available. That's why we've invested in some of the most advanced dental technology, including digital X-rays, intraoral cameras, and a putty-free dental impression system. These tools will help speed up your appointments while also improving your quality of care, giving you the best of both worlds. If you're ready to see a dentist in Powell who believes in achieving the highest levels of patient satisfaction with advanced dental technology, contact us today!
Intraoral Cameras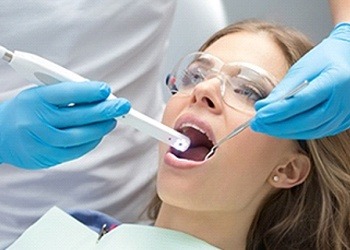 It can be hard to understand what your dentist is talking about sometimes! You know what all the words mean, but you literally can't see what they're referring to when it comes to your smile. Our intraoral camera closes this longstanding gap. Now, we can capture and show you high-definition images of your teeth and gums right in the treatment room. We can use them to show you trouble spots and discuss the benefits of potential treatments, so you're always fully informed about your dental health.
Digital X-Rays with Negligible Radiation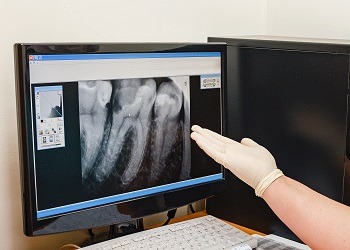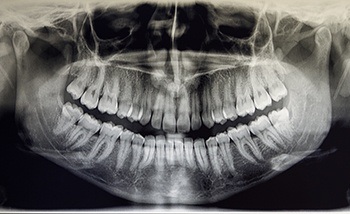 There is so much going on with your smile that is hidden from the naked eye, and to make sure we don't miss the earliest signs of a potential problem, our team uses X-rays every single day in our practice. Digital X-rays have several advantages compared to traditional film radiography, including faster development times, higher-quality images, and less emitted radiation (about 90% less on average!). Plus, because they are digital, the X-rays can be easily and infinitely stored, sent, and copied as needed.
CareStream Digital Color Imaging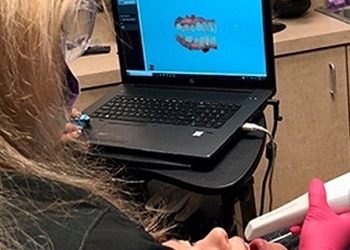 Creating a working model of a patient's teeth used to mean that they had to bite down onto cold dental putty for minutes at a time, but thankfully, that's no longer the case at Powell Dental Group! Now, using a CareStream digital scanner, we can create an exhaustively detailed 3D image of the teeth and bite without even touching a patient. This process is not only faster but more accurate as well, saving patients from having to get time-consuming retakes.
OralID for Oral Cancer Screening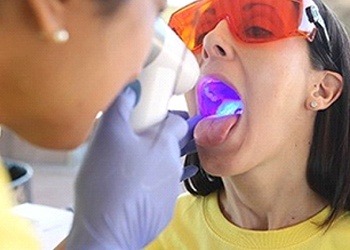 Air Abrasion Stain Removal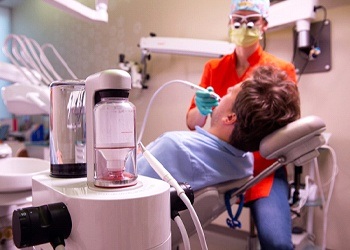 Stubborn stains can often leave you feeling embarrassed about your smile. Daily consumption of dark-colored beverages (i.e. coffee, tea, soda) and foods can leave a lasting footprint in the form of tooth discoloration. When brushing isn't enough, the Air Abrasion Stain Removal device can gently eliminate these surface imperfections, leaving your teeth sparkling and healthy. Patients who undergo this type of treatment can expect a painless experience that requires no drills, no heat, and can be completed in one convenient visit.
Gentle Cavitron Cleanings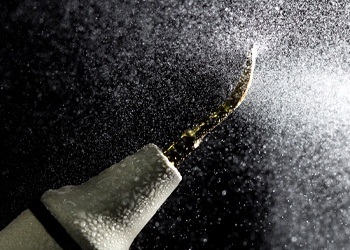 Regular dental cleanings require most dentists to use a traditional scraping instrument to remove plaque and tartar accumulations from around teeth and the gum line. Now, there is a safe, effective, and painless alternative Dr. Shults can use – the Cavitron. This device promotes a more comfortable experience by using high-frequency sound waves to gently remove tartar and leave you looking and feeling better than when you arrived.
In-Office Tooth Whitening with Take-Home Glo Unit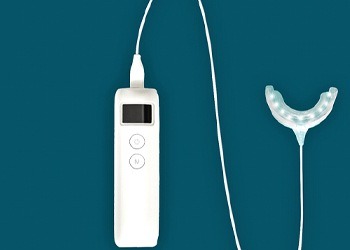 Achieving a whiter, brighter smile is one of the many reasons so many patients opt for professional teeth whitening services. At Powell Dental Group, we are pleased to offer in-office tooth whitening should you prefer to see results in about an hour, or we can provide you with a take-home Glo Unit that will produce dramatic changes in 5-9 days. No matter which method you choose, this tooth whitening system is a safer and more cost-effective solution that will have you enjoying a new and improved smile.
Sirona Orthophos CBCT 3D Imaging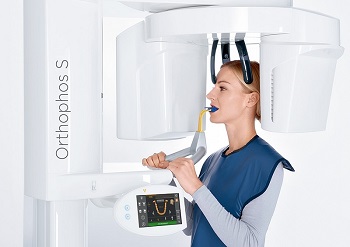 Sirona Orthophos CBCT Airway Imaging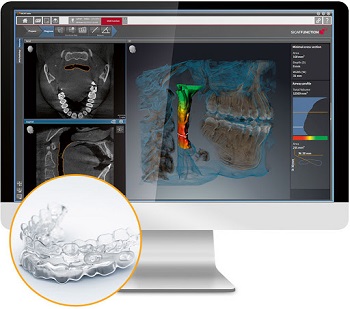 The Sirona Orthophos Aiwary Imaging device is also used to capture high-resolution images of the upper airway structure in a single rotation. While biting down on a small mouthpiece, you will remain completely still while the arm fully rotates around your head. This quick scan creates a single X-Ray image that provides Dr. Shults with a more detailed view into your upper airway structure, allowing her to formulate a thorough, precise, and accurate treatment plan to help improve your sleeping and breathing patterns.
Eccovision Rhinopharyngometry for Airway Assessment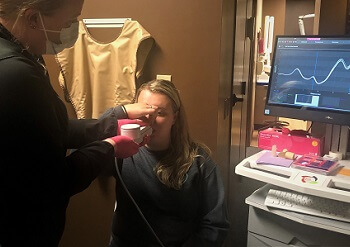 If you suffer from the symptoms associated with sleep apnea, this piece of advanced dental technology works to identify potential obstructions within your nasal passageway and airway. By measuring these areas of your facial structure using soundwaves, we can use the information provided to determine how best to treat your sleep apnea and which type of oral device will be best for delivering adequate and effective results.
Learn More About Eccovision® Rhino Pharyngometry
ResMed ApneaLink Home Sleep Testing for Sleep Apnea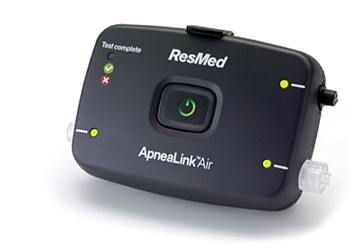 When in need of a formal diagnosis for sleep apnea, our team can use the ResMed ApneaLink Home Sleep Testing system. As a cost-effective solution, this easy-to-use device is compact and includes a small black box device that is strapped around your midsection and can record your respiratory effort, oxygen saturation, pulse, nasal flow, and snoring while you sleep. The data is then collected and works to streamline the process of establishing a formal diagnosis much more quickly than if you were to participate in a lab-based sleep test.
Z-Synergy Home Testing for Sleep Apnea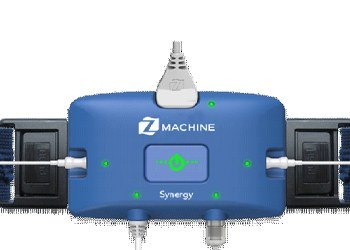 Cleared by the FDA, the Z-Synergy system is a device that is used for convenient at-home testing for sleep apnea. More accurate than any Type 3 home sleep test that is commonly used, this EEG sleep technology assigns a score for wake, light and deep sleep, REM, and arousals every 30 seconds. Not only is it easy for you to set up before you go to bed, but the data collected will allow for more efficient diagnosis and, in turn, more timely treatment recommendations.
Nitrous Oxide (Laughing Gas for Anxiolytics)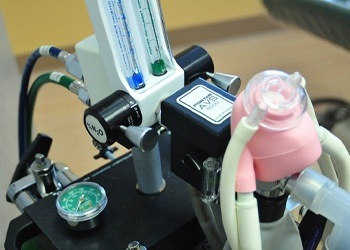 If you or a loved one are fearful of visiting the dentist's office, we can offer a solution that will help you to relax and remain completely comfortable during your appointment. With nitrous oxide, you will simply inhale a combination of oxygen and nitrous oxide that will serve as a sedative. Within minutes, you will begin to feel as if you are floating but do not worry, you will not actually be put to sleep. Receiving nitrous oxide will allow you to feel more relaxed, but you will be able to respond to the cues of our team throughout your treatment.
IV Sedation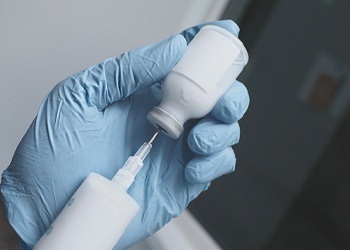 For individuals who experience extreme dental phobia, require multiple dental treatments in one visit, or who have difficulty responding to other forms of sedation, Dr. Shults partners with a local dental anesthesiologist who can administer IV sedation. Placed intravenously into the hand or arm, you will feel relaxed, comfortable, and completely at ease while a member of our team monitors your pulse and oxygen levels to ensure safety and effectiveness are achieved.