Eccovision® Rhino Pharyngometry – Powell, OH
Better Measurements for More Effective Sleep
Do you experience chronic fatigue? Do you snore or breathe through your mouth while asleep? Do you have difficulty sleeping throughout the night without waking up one or more times because you stop breathing? If you answered "yes" to any of these questions, you are likely suffering from sleep apnea and should seek the help of a sleep dentist. Dr. Shelley Shults at Powell Dental Sleep Solutions is pleased to provide advanced technology designed to provide greater accuracy and results when it comes to creating an oral appliance to treat sleep apnea. Known as the Eccovision® Rhino Pharyngometry, this non-invasive, diagnostic imaging system captures necessary information to help Dr. Shults and her team create the most effective oral appliance for your individual needs. To learn more about this technological advancement, contact our office today!
What is the Eccovision® Rhino Pharyngometry?

The Eccovision® Rhino Pharyngometry is comprised of a Rhinometer, which is designed to measure the nasal airway, and a Pharyngometer, which measures a patient's oral airway. By sending sound waves into an individual's airway, the machine can effectively measure the reflected sound waves, giving Dr. Shults and her team a better understanding of the actual size of the airway.
Approved by the FDA, these devices make it possible for Dr. Shults to more accurately identify if and where a blockage exists within the airway. Once she can determine the severity of collapse, she can construct a thorough and personalized treatment plan to address a patient's sleeping and breathing problems.
The most common form of treatment for someone suffering from sleep apnea is an oral appliance. By using the Eccovision® Rhino Pharyngometry, we can create a device that is fabricated in a way that moves your lower jaw (mandible) forward and keeps it open. This prevents the soft tissues of your throat and neck from collapsing and creating a blockage in your airway.
How Is It Used?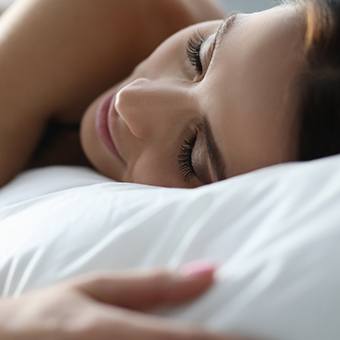 Thorough research studies indicate there is a clear connection between Obstructive Sleep Apnea (OSA) and a narrow airway. Individuals who are unaware of their sleep apnea are more likely to experience high blood pressure, weight gain, frequent headaches, and even memory loss. In fact, nearly 50-70 million Americans suffer from some form of sleep apnea.
To provide a definitive diagnosis and offer a tangible and reliable solution, the Eccovision® Rhino Pharyngometry is used by sleep dentists to determine where a blockage may exist within your airway. With advanced technologies such as this device, Dr. Shults can effectively determine which oral appliance is best for improving your snoring and sleep breathing problems.
The sound waves projected into your nasal and oral airways allow the machine to measure the size of your airways as well as their stability. Once she has compiled the information from the imaging system, she will take impressions of your oral structure and use them in combination with personalized data retrieved from the Eccovision® Rhino Pharyngometry. Then a biocompatible device will be constructed that allows your lower jaw to move in increments of 1mm or less, maintain its structural integrity for at least 3 years, and maintain its setting while in use.
What Are the Benefits of Using the Eccovision® Rhino Pharyngometry?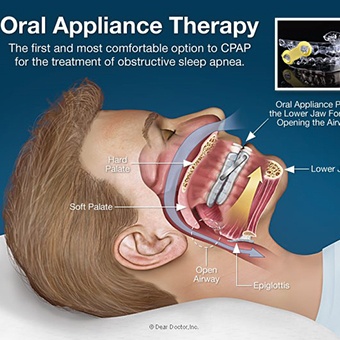 When treating patients who suffer from sleep breathing problems and snoring, Dr. Shults believes in using the best, most advanced technology available. By investing in the Eccovision® Rhino Pharyngometry, she is not only ensuring more accurate and precise treatment plans, but she is also providing her patients with an oral appliance that delivers life-changing results.
Additional benefits that can come from using the Eccovision® Rhino Pharyngometry include:
The diagnostic imaging system is easy-to-use for sleep dentists and non-invasive for patients
The device produces accurate results that can serve to assist Dr. Shults in creating the right oral device for patients with snoring and sleep breathing problems
It is a cost-effective solution that can better provide patients with the right form or oral appliance therapy
It is approved by the Federal Drug Administration (FDA)
This device serves as an excellent way to identify the severity of an individual's sleep apnea and offer those who are CPAP intolerant an alternative solution for treatment