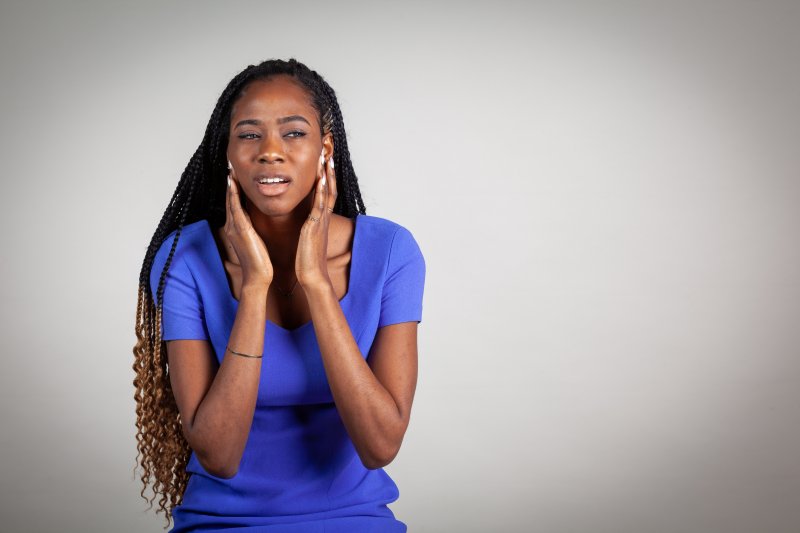 Are you a woman who is suffering from intense jaw pain? Do you regularly wake with headaches or find it difficult to open and close your mouth, especially when eating? If so, you may have temporomandibular joint (TMJ) disorder. Although common in men, the research states that women between the ages of 18 and 44 are at a much higher risk. Read on to learn why this is the case and what it means for your oral health.
TMJ Disorder & Women: What the Facts Say
According to the National Institute of Dental and Craniofacial Research, TMJ disorder is twice as common in women, especially those aged 35-44. With an estimated 11-12 million adults in the United States admitting to experiencing pain within the TMJs, researchers are working to identify why it seems to be plaguing women more than men.
Some of the answers include:
Hormones – It is believed that women as young as 18 can develop serious TMJ. Because women and men have different natural hormones, those who are considered within "childbearing age" are most likely to develop TMD simply because of the estrogen and progesterone levels that fluctuate during this time.
Stress – This is not to say that men don't experience stress, but women tend to suffer from more chronic anxiety. Since stress is a clear indicator of TMJ, it's no surprise that its multiple forms (i.e., nutrient deficiencies, menstrual cycles, etc.) are reasons for added tension and pressure on the jaw joints.
Jaw structure – Women have a different type of jaw structure as opposed to men, and if there are alignment issues, it can pose a potential threat to the functionality of the jaw joints. Not to mention, if jaw muscles are weak, TMD is likely to occur.
Sleep apnea – Although sleep apnea is more prominent in men than women, ladies can develop this common condition, further exacerbating potential TMD.
How to Address TMD as a Woman
The moment you suspect you are living with TMD, you shouldn't wait to seek help. Making an appointment with a skilled dental professional who offers TMJ Therapy is one of the best choices you can make.
Apart from reviewing your medical history and current life situation (i.e., stress levels, etc.), it will be determined how best to treat your situation. A few worthwhile options for treatment include:
Anti-inflammatory medications
Muscle relaxants
Adjusting misaligned teeth
Using occlusal splints to reposition the jaw
Physical therapy
Botox injections
While these are just some of the recommended options, there is also the potential of surgery; however, most dental professionals avoid this suggestion as it is usually not the most beneficial. A splint, though, is highly effective and easy for patients to use.
In combination with jaw exercises and stretching, you can wear a customized splint that helps to prevent grinding and clenching of the teeth while also working to assist the jaw in alleviating pressure and tension to the jaw joints.
Living with jaw pain no longer has to be your reality. Instead, you can work with a trusted dentist who, with the right methods and techniques, can help you enjoy eating, speaking, and smiling once again.
About the Author
Do you suffer from TMJ? Dr. Shelley Shults is a board-certified nurse practitioner, general dentist, and dental sleep medicine practitioner who wants to help. Leading a team of professionals at Powell Dental Sleep Solutions, she uses advanced technology and treatments to help patients embrace a better quality of life by treating TMJ/TMD. If you are suffering from the effects of chronic jaw pain, contact us at (614) 396-9310.